Nina
Shift Supervisor
My name is Nina, I have been a Starbucks Partner for 3 years, since 2019 when I was still a law student. I'm strong, I adapt easily, and I've had a nice development during these years, currently I'm Facility Manager. I love people and appreciate their diversity. Every day comes with a new experience, so there is no room for monotony! Being in law school, I had to speak in public and at first I was nervous, but thanks to my experience in this company I was able to overcome this fear. I developed on the public speaking side by interacting with customers, by coffee tastings, by everything Starbucks in general because this is one of the Starbucks principles: Make every moment right! I didn't know the coffee world was so vast, I found a second family here! A family that supports and encourages me and thanks to them and their hard work I have managed to grow. I love the environment in this company, it is a pleasant one where I always come back with love. I learned how to handle situations, I learned how to make decisions in difficult situations, I managed to prove to myself through this experience that I can do more than I thought! Make every moment a perfect one and smile every day because there shouldn't be anything in this world something or someone to upset us!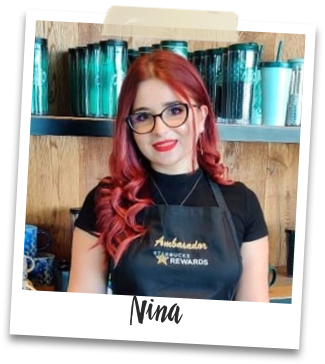 Laur
Store Manager
My name is Laur and I'm a fan of coffee, spectacular coffee tastings, football matches and evenings spent with friends.
I have been part of the Starbucks family for almost 5 years. I joined the brand as a Barista in 2017 and found great people here who inspired me, a young and cheerful team that made me want to stay. My desire to stay with this wonderful world of coffee, and the people I spent a good part of my day with, gradually led to my personal and professional development.
The big challenge came in 2019 when I decided to leave my hometown (Iasi) and continue my journey with the first Drive Thru in Romania, in Bucharest as an Assistant Store Manager.
It was indeed a great challenge: from the social environment, the type of people I was interacting with - both Guests and Partners - to a different pace of life, more dynamic and complex influenced, for sure, by the type of store had joined.
Now (2021) I have my own store as a certified Store Manager and I can say that I am proud of it and the beautiful team of Partners I have built here. The welcoming atmosphere, the cleanliness of the store and the quality of the drinks accompanied of course by Latte Art are the things that keep our Guests coming back.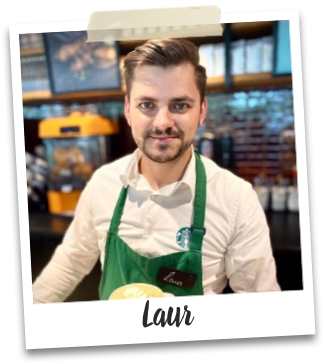 Beti
Assistant Store Manager
I started my Starbucks experience in 2015 in December as a Barista, in the first Starbucks store opened in Bucharest, a time that I remember every time I smell gingerbread and toffeenut latte, the first drinks I made. I was greeted with warmth and felt like I belonged to this community from the very first days. I was accepted for an interview a few days before Christmas, I felt like I got my gift early. I managed to organize my time so that I could finish my bachelor's and master's program, years in which I had support from the team in terms of the program. With the help of the management team I managed in a few months to promote as Product Manager, a period in which I learned how important it is to know the daily consumption, a period in which I became aware of the importance of sustainability towards nature. The CAFE (Farmers' Equity in Coffee) program, which is representative of our community, was for me the reason why I choose to inspire others with my love for coffee. I became a People Manager in 2018 and love what I do. I have the opportunity to be a part of partner development, one of the most rewarding rewards for me and to support them in turn.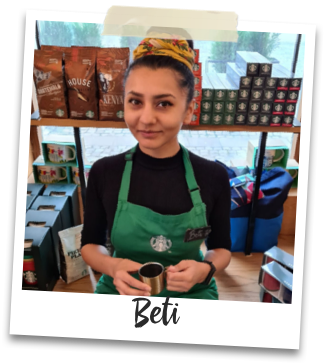 Emil
Barista
Hi,
I'm Emil, I'm a Partner at Starbucks Lotus Oradea and I'm very happy to have joined the Starbucks world more than 2 years ago. My wish was to work in a nice environment with a team as close to my age as possible and here I found the perfect place.
I'm a person with just the right vibe for Starbucks. I'm sociable, always like to meet new people, learn and work in a team. Here at Starbucks I discovered myself and a passion that will never leave me - making coffee and tasting it.
I also enjoy listening to music while I draw (I'm preparing for Interior Design college), cooking, and spending time with my friends who would describe me as someone you can always count on.
From day one I loved my job as a Barista, managing to fit in very quickly and, evolving more and more each day, I got to the point where I am participating in the beautiful Barista Championship competition.
I have developed on all levels, the most important being that I have made friends with my partners, but also with the loyal customers who enjoy every day the coffee I make for them.
I hope to stay with Starbucks as long as possible and go as far as I can, especially in this competition where I look forward to meeting partners from all over the country.